Spring is in the Air! Here in New England, the first spring flowers are coming out now and everything feels new again, full of promise and hope. Hope springs eternal not only in nature but also in our hearts when a new beginning is underway.
For our Maya students, hope becomes reality when they are notified that they are approved for a MEF university scholarship. A month ago, we received a request from our partner Amigos de Santa Cruz to consider helping a few additional students in the Santa Cruz La Laguna area in Guatemala. Amigos supervisors had already vetted these applicants and we were able to approve these four new students. This was made possible absolutely and only because of your support to MEF.
In 2023, a total of 557 Maya students are benefiting from your generosity in Guatemala, Mexico and southern Belize.
Students like Jonny, Daniel, Nicolasa, and Santos who are just entering the scholarship program now can have the real hope that they will succeed as professionals in their own countries.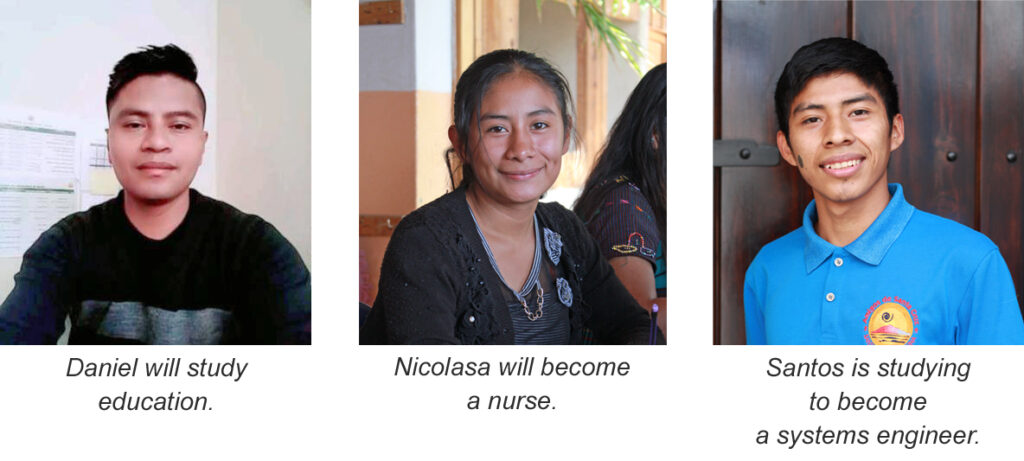 We are happy to see an increase in online giving and thank you very much for that. A special mention goes to those of you who have decided to make a commitment to MEF and to make monthly recurring contributions. Given the economic stress many of us are currently under, such monthly contributions might be easier to manage. I must say that that is true for me. Also, I do not have to remember, it's automatic. If you wish to become a monthly donor, it will take only a few minutes of your time to sign up at www.mayaedufound.org. It will help us sustain programs like the one with Amigos.
We thank you and wish you a very happy Spring!
Sincerely,
Elisabeth S. Nicholson
Executive Director
Donating to MEF is easy, by check or by phone. For safe, online donations, one-time or recurring, please go to www.mayaedufound.org and click on the orange Donate Now. Our partner Network for Good will process your donations to MEF securely and quickly and give you an instant e-receipt. Consider becoming a recurring donor. Your regular, tax-deductible contributions to MEF, even modest amounts, will add up and make a difference in the lives of Maya students. And, remember that you can also donate stocks or IRA/401-K required distributions to MEF. Thank you.